Aloha 2023! We are looking forward to seeing each and everyone of you this year! Cheers to a joyous, prosperous, healthy, and successful year! Our current upcoming performances are listed below. Keep checking back! Additional information and dates will be added as soon as possible. Feel free to contact us if you would like to inquire about The Mākaha Sons performing at your upcoming event.
Mahalo Nui,
The Mākaha Sons
---
Friday January 6th 2023
PRIVATE EVENT
Saturday January 7th 2023
HAWAIʻI THEATRE
Saturday January 14th 2023
SAN PEDRO, CALIFORNIA
Sunday January 15th 2023
16th Annual Southern California Slack Key Festival
Redondo Beach Performing Arts Center
Redondo Beach, California
Reserve Tickets NOW!
Wednesday January 18th 2023
OPENING DAY STATE CAPITAL
Wednesday January 25th 2023
JARDINE COLife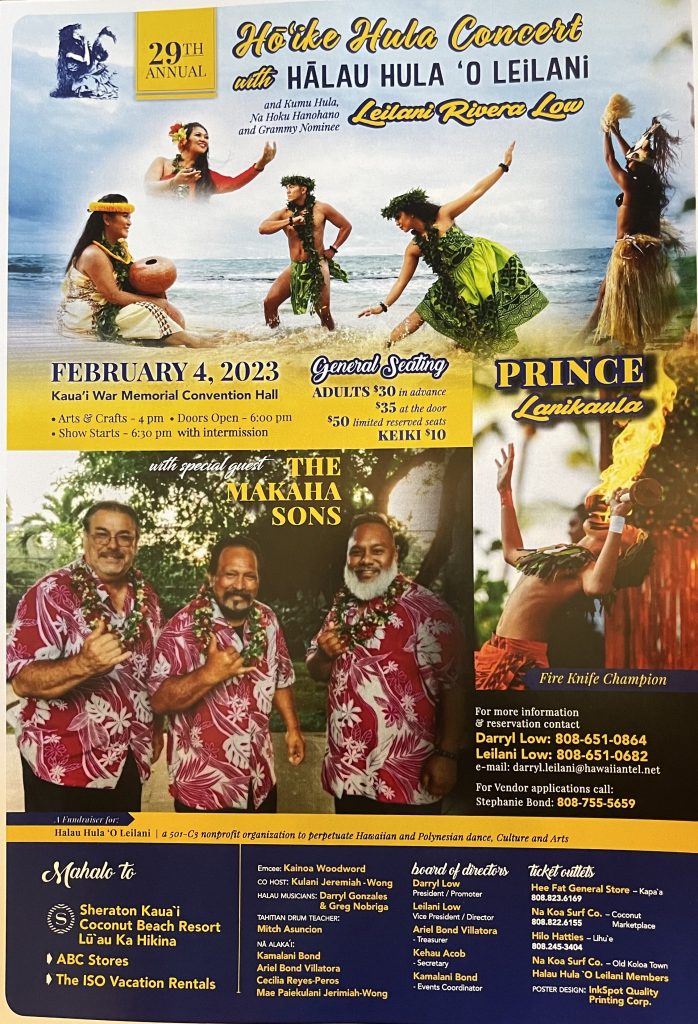 Saturday February 4th 2023
Hoʻike Hula Concert with Hālau Hula ʻO Leilani
Special Guests, The Mākaha Sons
Reserve tickets today & call 808-651-0864 or 808-651-0682
Wednesday February 22nd 2023
Hawaiian Airlines Dinner
Saturday February 25th 2023
Kamehameha School Hoʻolauleʻa
Saturday March 4th 2023
Private Dinner and Show with Sam Choy
Saturday March 11th 2023
PRIVATE WEDDING
Tuesday March 14th 2023
PBS Halekulani
*BY INVITATION ONLY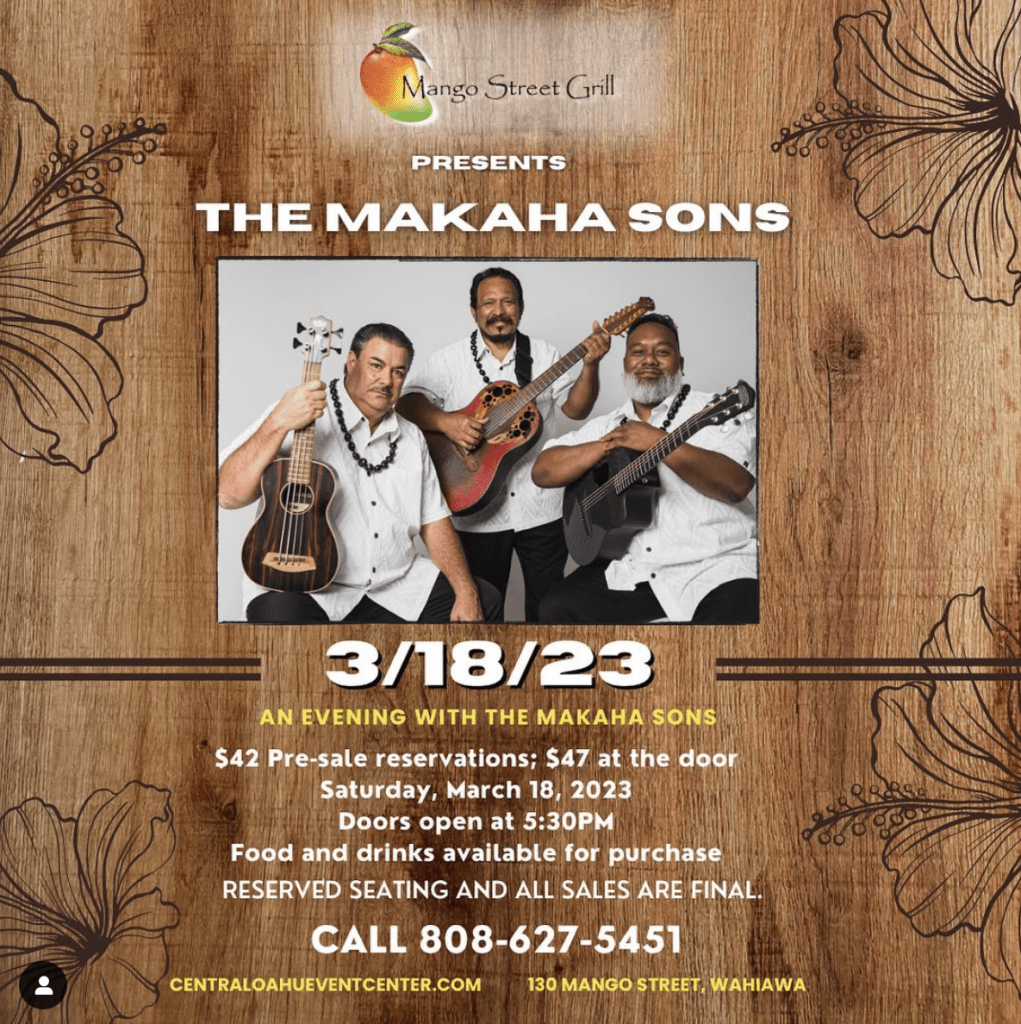 Saturday March 18th 2023
Mango Street Grill
Call 808-627-5451 (Daryl & Allie)
Monday March 27th 2023
EKK Kauaʻi
Saturday April 8th 2023
MACC, Artist 2 Artist
Thursday April 13th 2023
Blue Note, Artist 2 Artist Concert Series
Reserve Tickets, HERE!
Saturday April 15th 2023
PRIVATE
Retirement Party
Saturday April 22th 2023
Kona, Hawaiʻi – Aloha Theater
Saturday April 29th 2023
Saint Louis High School
Friday May 12th 2023
Las Vegas
Saturday May 13th 2023
Las Vegas
Saturday May 20th 2023
PRIVATE
Kona, Hawaiʻi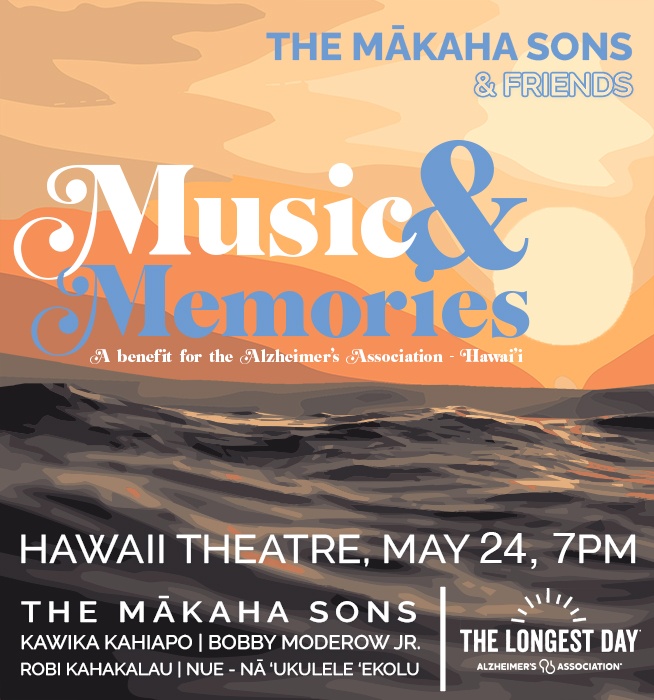 Wednesday May 24th 2023
Hawaiʻi Theatre, Alzheimer Association
Get tickets HERE!
Saturday June 17th 2023
Hilo Palace Theater
Get tickets HERE!
Wednesday June 28th 2023
Honolulu Zoo
Saturday July 1st 2023
Lanaʻi Pineapple Festival
Friday July 14th 2023
Honoring for Dr. Tseu
Friday July 21st 2023
Portland, Oregon
Saturday July 29th 2023
Lanikohonua, Oʻahu
Thursday August 10th 2023
Waikiki Aquarium
Saturday August 26th 2023
PRIVATE WEDDING
Friday October 6th 2023
Mental Health Kokua
Saturday October 21st 2023
Whittier – Ruth B. Shannon
Sunday October 22nd 2023
San Diego
Saturday December 16th 2023
Christmas Concert
Hawaiʻi Theatre
---
LIVESTREAM AT THE HAWAII THEATRE
Watch Mākaha Sons Livestream Performances

---
Purchase The Mākaha Sons' Jerome Koko CD Today!
Listen Now: The Mākaha Sons' Jerome Koko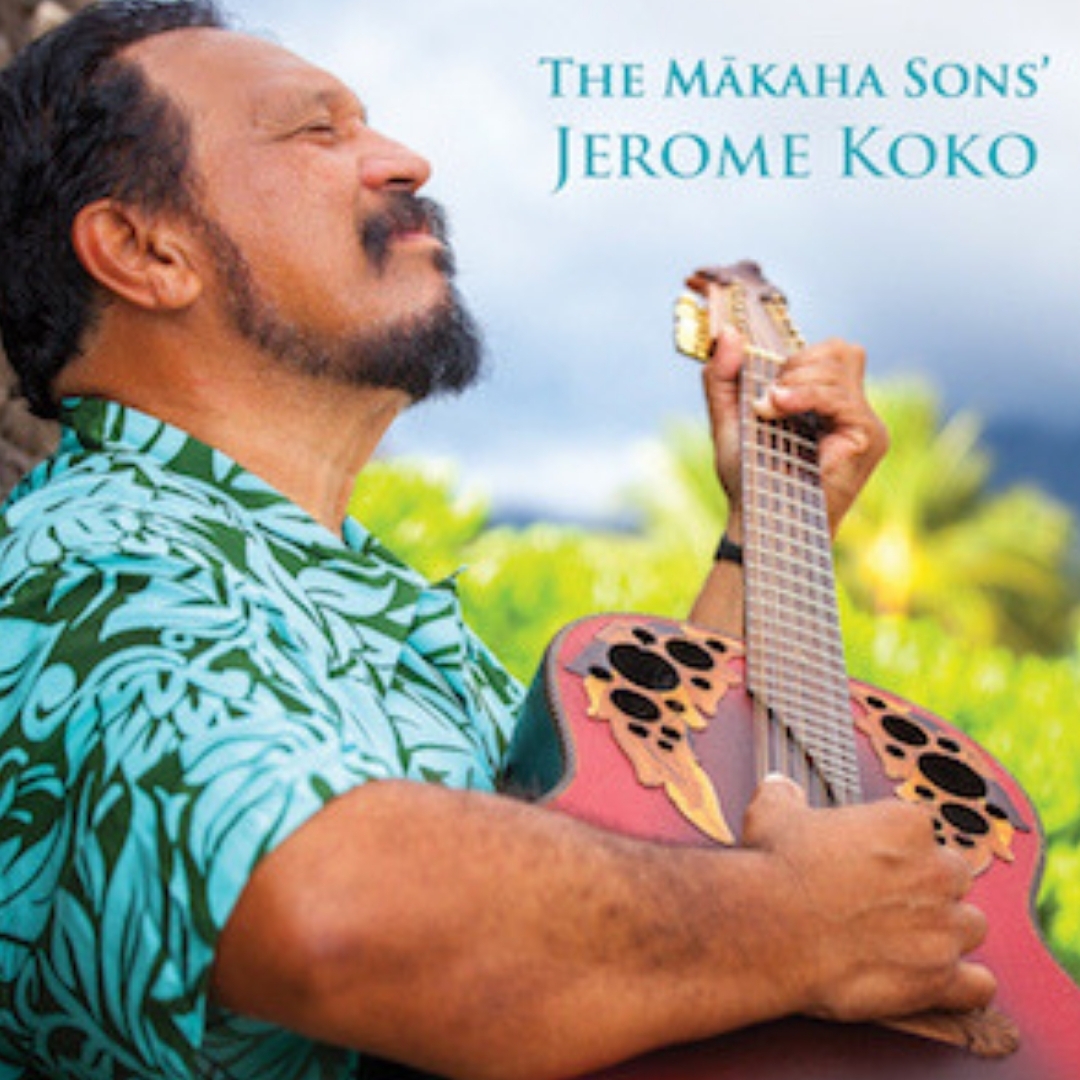 ---
Shop Mākaha Sons Merchandise